Jannah takes a fresh look at the world of desktop publishing in today's modern age of content marketing and flips it on its head with a stunning design, fresh layout options, modern sharing options and integration of most popular extensions for WordPress for maximum flexibility.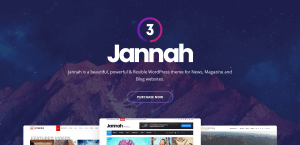 Responsive for Today's Modern Devices
Of course, Jannah has a fully responsive design that not only adapts to all of today's modern devices but responds to the most up to date mobile devices for swipeable content. It also appears to think for you with intelligent menu features that adapt to the user's device to ensure they have the best, most seamless experience possible while consuming your content.
AMP
Fully compatible with the Accelerated Mobile Pages (AMP) Project, so your content is mobile-optimized content and loads FAST, everywhere.
SEO Optimized
Jannah has the goods when it comes to SEO too, with Articles and Reviews Schema to support snippet views from longer articles. Optimized with full support for the super popular Yoast SEO and Rank Math Plugins so you can get more visitors from Google and BING Search, plus HTML SEO support so Search engines can pick up ranking signals from specific HTML elements, as well as SEO Rich Snippet support for add-ons like Reviews, Ratings, and Photos.
High Performance, Blazing Speeds
Did someone say 'Need for Speed?" Jannah has taken speed up a notch with several advanced developments behind the scenes to give you truly blazing page load speeds and website performance in general.
Lazy Load – Means images load when the user requires it.
Minified Version for JS – works the same as jquery.js but is smaller in size for your production website.
Minified CSS Resources – removes the spacing, indentation, newlines, and comments.
Built-in Cache to reduce DB Queries.
Compatabile with the popular cache plugin WP Super Cache.
bbPress Integration
The industry best practice forum software for WordPress by the creators of WordPress. This means you can rest assured you can easily setup discussion forums inside your WP site easily. It's easy to moderate, fast and clean and is managed from the one central account and features a One-Click install.
Pre-Skinned Demos
Go Dark, or keep it Light and fluffy – Jannah has you covered with easy to update Skins with Light, Dark and everything in between skins ready.